Ethics Matters
January/February 2014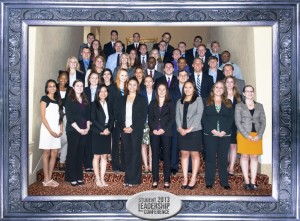 This year, 42 students representing 21 schools traveled to Chicago, IL, for the NASBA Center for the Public Trust's (CPT) 2013 Student Leadership Conference, a two-day blitz of leadership and ethics training.
The Conference was held alongside the NASBA Eastern Regional Meeting at the InterContinental Chicago Magnificent Mile. The experience was shared by student leaders from each StudentCPT chapter, as well as students committed to taking on leadership roles in the development of new chapters. Students eager to establish new StudentCPT chapters came from the College of Charleston, Florida State University, Metropolitan State University of Denver, The Ohio State University, and the University of Nevada – Reno.
In addition to leadership and business ethics training, the Conference is intended to give a hearty introduction to the CPT and its programs to those preparing to establish an affiliated chapter. It also offers the development of a support network among students at varying levels of chapter status.
The Conference kicked off with keynote speaker Jenneen Kaufman, Vice President and CFO of the Tennessee Titans. Kaufman shared experiences from throughout her career path and the journey that led to her current position. She spoke candidly about multiple challenges she has faced while working her way up through a male-dominated, NFL franchise. Attendees were all ears and eager to learn about Kaufman's real-life experiences and advice. Kaufman also offered an interesting peek into the organizational structure and support systems in place for the professional athletes employed by the organization.
Dr. Bob Chandler, Professor of Communication and Director of the Nicholson School of Communications at the University of Central Florida, educated students on Effective Communication for the Business World. Chandler spoke about what is often communicated through means, other than words. He offered advice and examples about the importance of body language, as well as tone and context. He also emphasized the importance of active listening; being a fully engaged listener.
In a lively, theater-like setting, students were presented with an ethics case, dramatically played out right in front of them by several CPT professionals, including Board President David Costello, Board members Drs. Linda & O.C. Ferrell, CPT Chief Financial Officer Michael Bryant and CPT President Alfonzo Alexander. Attendees were put into teams and given an assignment of creating a presentation to be given the next day. This activity allowed the attendees to practice assessing and debating the ethical dilemma and present their team's recommendation for action.
Perhaps one of the most beneficial sessions for students was the workshop on Strategic Networking, where CPT staff members Ronald Taylor and Amy Walters reviewed tips and topics for successful networking. Students were then given the opportunity to hone basic networking skills with each other. The students also had multiple opportunities throughout the Conference to practice what they learned by networking with Board of Accountancy members, high-level NASBA staff and other Eastern Regional Meeting attendees.
Joy Moon, one of the student attendees from East Central University in Ada, OK, particularly enjoyed Dr. William Latham's Strengths Finder workshop. Prior to the Conference, students completed a Strengths Finder assessment online, which Dr. Latham used to evaluate varying strengths, tasks and even career paths that utilize the students' particular assets.
"I have so much more confidence now, I love knowing what my strengths are and will be able to use them in my education and throughout my career," said Moon.
The Student Leadership Conference is just one benefit of the StudentCPT program offered by the NASBA Center for the Public Trust. The mission of the StudentCPT is to promote ethical thinking in the developing character and conscience of students. To learn how to sponsor a leader to the 2014 Student Leadership Conference, please contact Ronald Taylor at 615-312-3834, or rtaylor@nasba.org.