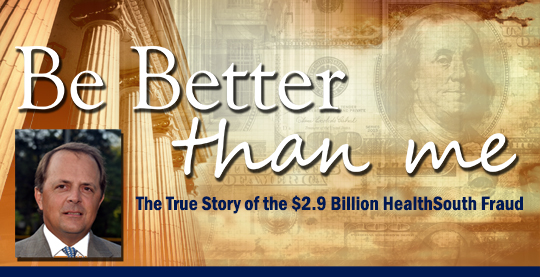 Join the NASBA Center for the Public Trust (CPT) and the Nashville Chapter of Financial Executives International (FEI) for an evening of dinner and dialogue on Tuesday, March 25, at the Richland Country Club in Nashville, Tenn. The reception begins at 5 p.m., and dinner will be served at 6 p.m.
The CPT's "Understanding and Stopping Corporate Fraud" event will feature guest speaker Weston Smith, former Chief Financial Officer turned whistleblower of HealthSouth Corporation.
Financial executives and chief executives of companies of all sizes are invited to hear Smith's true accounts, highlighting how he and others at HealthSouth perpetrated the massive fraud over the course of several years, which ultimately led to HealthSouth being found guilty of the largest corporate fraud in history.
Smith will share with his audience why they should never participate in such behavior, and how to identify questionable activities in companies. Participants will have a first-hand look at what HealthSouth did, and why others should not follow that same path.
The evening also includes a plated dinner and a networking reception. Don't miss this great opportunity to learn and make new contacts.
To register for the event, please call 615-312-3841 to confirm an individual or group reservation. The deadline to register is Thursday, March 20. The cost is $70 per person, and $675 per table of 10.