Ethics In Action Competition Invites College Students Across U.S. to Showcase Ethics in Business Through Video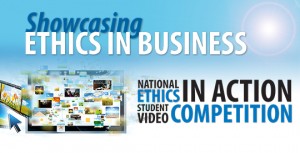 NASHVILLE, TENN. (January 18, 2013) – The NASBA Center for the Public Trust (CPT) announces the launch of its Fourth Annual Ethics In Action Student Video Competition, sponsored by the Dean Institute for Corporate Governance and Integrity.
This exciting student video competition focuses on ethics and accountability in the business world. With the prevalence of ethical dilemmas of recent years – LIBOR, the Madoff scandal and Wall Street's impact on the economic crisis – the CPT realized an opportunity to influence future leaders by educating today's students on ethics, accountability and integrity through this exciting competition.
The competition is open to all U.S. college students, and seeks entries from students of all majors. Categories include 3-5 minute (Short Film), and 30 second PSA (Public Service Announcement). Cash prizes range from $250 to $1,000.
Interested students are encouraged to visit the StudentCPT website to register their team and learn more about the contest. Team registration is due by March 1, 2013. Video submission deadline is April 1, 2013. Winners will be announced April 15, 2013.
For more information, or to have promotional materials sent to your campus, contact:
Amy Walters, CPT Manager of Programs
awalters@nasba.org
615.564.2129
About the NASBA Center for the Public Trust (CPT)
The NASBA Center for the Public Trust (CPT) is a non-profit organization whose mission is to champion the public trust by advancing ethical leadership in business, institutions and organizations.
See Full Media Advisory
CPT to Host National Student Video Competition
Contact: