In the October edition of Ethics Matters, five honorees of the Center for the Public Trust's (CPT) Being a Difference Award were introduced.
Since the last edition of the newsletter, the CPT has traveled to Birmingham, Michigan and El Segundo, California, to present two honorees with their awards, each in a unique ceremony.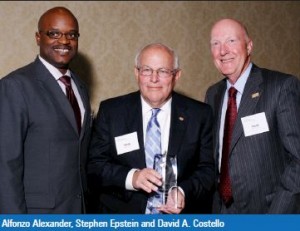 On October 3, 2011, David A. Costello, President and CEO of CPT and NASBA, Alfonzo Alexander, incoming President of the CPT and Larry W. Bridgesmith, CPT Board Chair, attended an intimate reception in honor of Stephen Epstein, CPA. Mr. Epstein was presented with the Being a Difference Award by President Costello and congratulated by a host of family members, friends and colleagues.
Following the reception at the annual Michigan Association of Certified Public Accountants (MACPA) 2011 Awards Dinner, Epstein was again presented the award in front of an audience of over 250 Michigan professionals.
Mr. Epstein was selected as a winner for his work as an ethics educator for the MACPA and for enhancing the accounting profession in Michigan. Peggy A. Dzierzawski, President and CEO of MACPA explains that Epstein's "sustained dedication to the highest professional standards, his passion for ethics, his commitment to the CPA profession and his lasting legacy for the future of the profession make him an outstanding candidate for the Being a Difference Award."
"Steve Epstein impeccably represents the truest intent of the 'Being a Difference Award,'" said Costello. "The Award simply connotes a lifestyle – purposeful and determined – of modeling integrity and ethical behavior before the public who validates and rewards trust in individuals and companies. Steve's lifestyle and body of work have been so validated."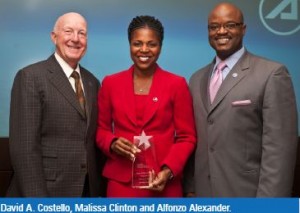 On November 16, 2011, Costello and Alexander traveled to The Aerospace Corporation in El Segundo, California, to present the Being a Difference Award to Ms. Malissia Clinton, Senior Vice President, General Counsel and Secretary. The award presentation was made in conjunction with a company-wide Managers' Meeting.
Aerospace used the opportunity to create an internal campaign encouraging all employees to continue promoting ethical behavior and "Being a Difference" throughout the company. With approximately 4,000 employees in 11 states, Aerospace broadened the scope of influence of the Being a Difference Award.
"Ms. Clinton has made a significant difference to the ethical culture of our corporation and is extremely deserving of the annual Being a Difference Award," said Dr. Wanda Austin, President and CEO of The Aerospace Corporation. "She has provided exemplary leadership from the top down and demonstrates exceedingly high ethical principles in both her personal conduct and in the standards she sets for the organization. She works tirelessly to be an ethical example every day, and her positive can-do attitude is contagious to everyone."
Following a nomination process, the Being a Difference Award is given annually to individuals and organizations who have distinctively contributed to their profession, community, region or nation through ethical leadership. Emphasis is placed on individuals and organizations that portray a lifestyle of ethical leadership consistently over time.
Look for additional features on Being a Difference honorees and information on the 2012 Call for Nominations in future issues of Ethics Matters.