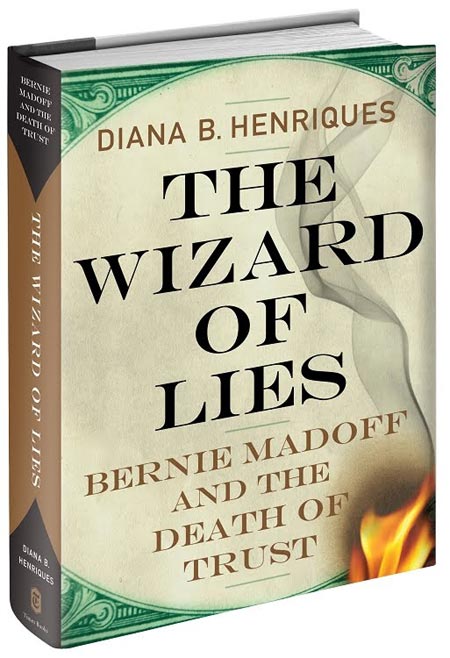 Ethics Matters – October 2011
Writing about yesterday's stock market picks is easy – like writing about yesterday's weather. Unless of course you bring Bernie Madoff into the equation. And, after 348 pages of Diane B. Henrique's engrossing tome, The Wizard of Lies, Bernie Madoff and the Death of Trust, you still don't have the easy answer you're looking for – why did he do it?
 The book is indeed engrossing – I couldn't put it down. Henriques, a senior financial writer for the New York Times, chronicles Madoff's life and ponzi scheme with vivid detail. The story meanders a bit, but is fascinating, mostly because Madoff is such a cool customer throughout. No matter how close he is to getting caught, he never cracks. The SEC investigated him a number of times, but was usually looking for signs of front-running (the unethical practice of trading for one's own account using knowledge of clients' orders) and not a simple ponzi scheme, so he was left to continue his subversion. The fact that he was so involved within the profession e.g., he is one of the five broker-dealers most closely involved in developing the NASDAQ and served as its Chairman, just makes for a good story (truth is stranger than fiction).
Henriques also did a good job of describing how trustees, Irving H. Picard and David J. Sheehan, unraveled a bankruptcy case with more than four thousand active customer accounts. Some of these customers were almost destitute and others wealthy beyond comparison. Some clearly innocent and others possible accomplices. A fascinating twist in the plot was when Barbara Picower, widow of Jeffrey Picower, a Madoff investor, returned $7.2 billion to be distributed to the victims. That amount represented the difference between the cash her husband had withdrawn from his Madoff accounts and the amount he invested. (Although she was still left an immensely wealthy woman.) So in the end, it is believed that most investors will recoup the amount of their initial investment (but not any of the money they thought they had earned). Henriques tries to end with a moral, but the fascinating part of the story is really the protagonist.