Ethics Matters – October 2011
UAE Embassy Donates $500,000 to Joplin High School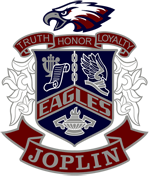 In the wake of the deadly tornado that struck Joplin, Missouri, on May 22, 2011, claiming 160 lives and destroying 30 percent of Joplin, many donations have been aimed at helping Joplin's tornado ravaged school district. The tornado completely destroyed the high school and two other schools and damaged half of all school buildings. A $500,000 gift from the United Arab Emirates is the latest donation to help meet a goal of providing all 2,200 Joplin High School students with a personal laptop. In addition, the Embassy issued a challenge to match, dollar for dollar, any funds donated up to an additional $500,000, to bring the total UAE Embassy grant to $1,000,000. Laptops will enable students to access educational resources online, such as textbooks. "It's overwhelming," said Melanie Dolloff, a volunteer helping coordinate fund-raising. "We have had people reaching out from all over the world."
 Good Deeds – Good Business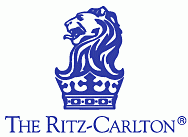 The Ritz-Carlton has long emphasized corporate social responsibility (CSR), and the movement is spreading among hotel companies. During a recent Ritz-Carlton luxury summit, instead of engaging in an afternoon panel discussion, the participants split up into teams in a meeting room to paint. The group worked on sections of a colorful, paint-by-number mural that was later hung on the walls of a local clinic that provides free health and dental care to the needy. This project is one of many the Ritz-Carlton has offered as part of its Community Footprints initiative. Running the gamut from building homes and feeding the homeless to rebuilding sand dunes for sea turtles, these programs enable guests to do volunteer work while they are on vacation or attending meetings. "What we are seeing is a real explosion of this whole concept throughout the industry," said Martha Honey, editor of Travelers' Philanthropy Handbook for the Center for Responsible Travel. (Read more about this endeavor here.)
Faith Hill Named "Tide Loads of Hope" Ambassador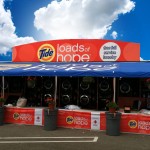 Tide announced five-time Grammy Award winner Faith Hill as the new ambassador for its Tide Loads of Hope program. Following Hurricane Katrina's devastation in 2005, Tide was inspired to launch a mobile laundry service that provides clean clothes to families affected by disaster. For close to five years, Tide Loads of Hope has volunteered free laundry services to communities hit with major disasters like Hurricanes Katrina, Gustav, Ike, the California Wildfires, and the recent floods in Middle Tennessee and Pike County, Kentucky. For Faith Hill, who lives in Nashville but was born in Mississippi, the Tide Loads of Hope program is an example of what people and companies can do to provide basic services to individuals in need.