A Better Way to Do Well by Doing Good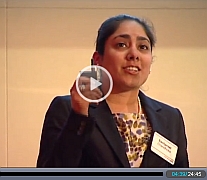 Over the last decade, investors have been increasingly interested in finding ways to blend their social concerns with their investment strategies, otherwise known as socially responsible investing or SRI.  From SRI, "impact investing" has evolved which proactively uses invested funds to solve social or environmental goals and achieve competitive financial returns at the same time.  In April of this year, the first International Impact Investing Challenge took place in New York City.  Twelve teams of business-school students from top American and British schools presented ideas that showcased how those investing opportunities might look.  Kellogg MBA students Sachprett Chandhoke and Puneet Gupta's first-place portfolio outlined a plan to improve grain storage and distribution in India.  They predicted an initial investment of $17 million to build storage silos in India's bread belt could deliver a return rate of 19 percent for investors over a 15-year period, improve revenues for local farmers, generate new employment, and provide more grain for food.  "The beauty of this is that it is simple," said Chandhoke, "We've gotten to the heart of what impact investing is all about."
Boy Without Hands Honored for Penmanship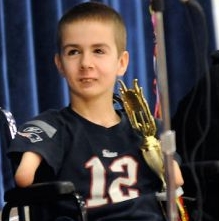 Nicholas Maxim, a 10-year-old fifth grader from Maine, garnered the spotlight this year in a penmanship contest despite being born without hands or lower arms.  Nicholas, who writes by holding a pencil between his arms, is known at his elementary school for his penmanship and illustrated comic strips, though it's not easy for him.  During its 20-year history, over 2.5 million students have participated in the national handwriting contest sponsored by Zaner-Bloser of Columbus, Ohio.  This year, the judges were so impressed with young Maxim's entry they created a new category for students with disabilities to inspire others.  Nicholas didn't know his paper had been entered in the contest, so it came as a surprise to receive the first "Nicholas Maxim Special Award for Excellent Penmanship."
Winning High School Student Splits $40,000 Among Runners-Up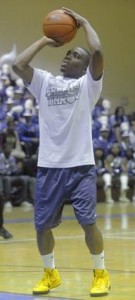 Organizers of a foul-shooting contest for top academic students at a Los Angeles high school wanted to show kids how to create community spirit with college scholarship money as the incentive.  Allan Guei, a star player on the basketball team at Compton High school, won the $40,000 top prize.  Three months later, he donated all of his winnings to the seven other finalists.  Guei, who is going to Cal-State Northridge on a full scholarship, felt the others could use the money more than he could.  "I've already been blessed so much and I know we're living with a bad economy, so I know this money can really help my classmates,"  he said.  "It was the right decision."
Boaters Save Humpback Whale's Life
Boaters Michael Fishback and his colleagues were on a small boat when they encountered a humpback whale entangled in a fishing net and on the verge of death.  Coincidentally, Fishback and Gershon Cohen founded The Great Whale Conservancy to help and protect whales, but they had never had an opportunity to save one themselves.  For over an hour, the three men worked with a small knife to untangle the complex web of nylon netting.  Once the whale was finally freed, its display of joy was obvious and was captured on video.