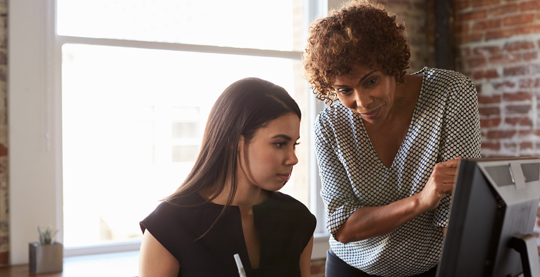 At any stage of your career, it is a good idea to align yourself with a mentor. Whether you seek advice or a second opinion, a mentor can help you overcome the hurdles you face. Especially as an intern, a mentor can assist you in the challenges you may face early-on in your professional career.
Who can be a mentor? What makes someone qualified? These are questions you must answer. A mentor can be a teacher, co-worker, friend, neighbor, parent; the list goes on and the possibility is in your charge. By definition, a mentor is a wise and trusted counselor or teacher or an influential senior sponsor or supporter. Consider who plays this role in your life. Who is someone that you trust and can turn to in time of need? The key is to choose someone that you feel comfortable asking questions to and who's feedback you value and respect. By allowing yourself to learn from an experienced professional, you will benefit from years of industry experience and knowledge.
Not only can a mentor help guide you through challenges and tough decisions, but they can also help you grow. A mentor gets to know your strengths and weaknesses over time and can play a critical role in helping you become the best version of yourself. A benefit of having a mentor is that they can objectively see the situation and advise based on their extensive experience.
Unsure of your next step? Mentors can help you set and achieve your goals. For effective goal-setting, your mentor can help you create SMART goals—specific, achievable, measurable, relevant and time-based. This process can help you focus your attention to key areas and manage expectations and progress. In addition, this will help to you take, actionable, small and manageable steps toward your larger objectives. So, take a moment to consider who is capable of becoming your mentor now?
-Dina Barabash, NASBA Content Development & Web Specialist